Kettle
kettle, noun
1. a container or device in which water is boiled, having a lid, spout, and handle; a teakettle.
a large metal pot for cooking, usually with a handle.
Old English cetel, cietel, of Germanic origin, based on Latin catillus, diminutive of catinus 'deep container for cooking or serving food'. In Middle English the word's form was influenced by Old Norse ketill.
One of the most oft used items in my kitchen is my kettle. Beginning with the whistling Revereware one that I remember growing up with,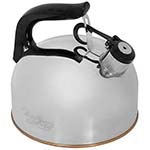 a copper beauty that I picked up at a yard sale with plans to polish it back to its original shine…and never doing,
a fancy (at least to me) cobalt blue model received as a wedding present, which was used until the handle, and I (metaphorically) got burned,
to a cast iron model with wire handle from my "back-to-the-land-ish" years. I learned that as quaint as it looked, it rusted easily, so it was delegated to sitting on top of the wood stove and only used to keep humidity in the house during the winter until it finally bit the dust because of so much rust.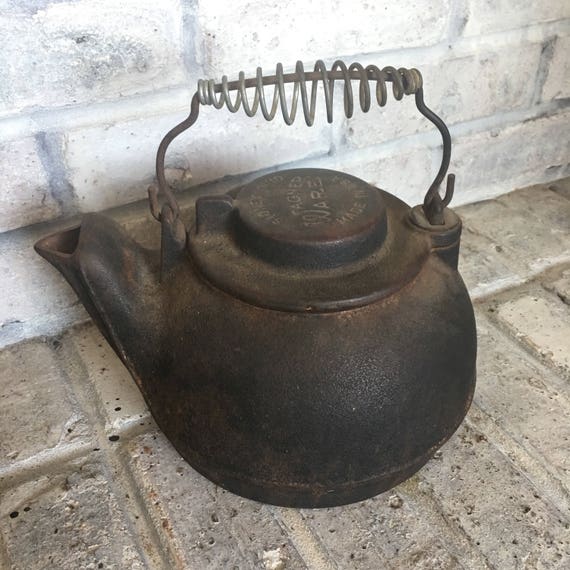 Now I have an electric kettle which I didn't think I would like. Wonder of wonder, I do love its ease.
Mary Frances
One of my favorite mentions of the oh so necessary kitchen kettle is found in The Mary Frances Cook Book: Adventures Among The Kitchen People by Jane Eayre Fryer. This is an old children's book and very dated in terms of today's political correctness.
Tea Kettle first shows up saying, "I'll melt if somebody doesn't come fill me soon." There is no water inside him and the heat is blazing below. (This may have been why the wooden handle burned on that blue kettle I once had. 😉 )
Mary Frances, a young girl who wishes there were somebody to help her to learn how to cook, arrives next and as if on cue, Tea Kettle says… "'I'm Tea Kettle, Miss,'" …lifting his lid very politely. 'I'm gladly at your service, if you please.'"
The fanciful fun begins and she learns her way around the kitchen with the help of Sauce Pan, Boiler Pan, Auntie Rolling Pin, and all the other Kitchen People.
Although I no longer use a big kettle that looks like the one Mary Frances has, I do use my electric one multiple times daily starting with a cup or two of morning coffee. I can reheat water quickly and add hot (instead of cold) to soups, stews, and simmering beans. (A little hint for you: There will be plenty of soup, stews, and bean recipes in my new book HOME COOKING.) Lukewarm water (the temperature of a baby's skin) is perfect when proofing yeast for bread, and my kettle, like Mary Frances' is ready to help. If the water is a little too warm, it's easy to mix a little cold water in until it's just the right temperature.
Your Kettle Memories
Do you have a favorite kettle or memory of one that is in your family? I'd love to hear your stories, so please feel free to write in the comments. Now excuse me while I go make myself another cup. 😉
P.S. You can read the full version of The Mary Frances Cookbook for free on the Gutenburg Project.